Information in this section is from a research project around 2000 and may be outdated.
Bicycle Sharing Research Project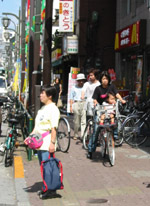 Entrepreneurs around the world have recently invented various systems for "sharing" private transportation modes in order to deal with environmental and urban problems. In Cambridge, Massachusetts, Zipcar's car sharing program has already been used by plenty of students and young adults who can't afford a car, as well as a parking space in the heightened real estate market.
Meanwhile, in Europe and Japan, a number of bicycle sharing programs have been experimented in metropolis in order to deal with mobility problems. Even though various efforts to provide "free bicycles" in urban areas have been experimented for more than 30 years around the world, most of them could not survive mostly because of thefts and vandalism. The recent trend is to lease bicycles only to registered members as a for-fee service. Such bikeshare programs can function as an efficient transportation mode for in-town trips (no big investment, no lead time, and no emissions).
In Japan, bicycle is very popular among city dwellers for commuting between their apartments and the nearest train/subway stations. This has led to literally millions of bicycles parked on sidewalks around stations. There is not enough space for pedestrians to walk on the sidewalk! To alleviate this problem, entrepreneurial cities across the country have started to experiment with bikeshare programs.
The purpose of research project was to identify how entrepreneurs in the field of bikeshare programs have overcome various obstacles in implementing those programs. I literally "share" the information I gatherered through the research--unlike traditional researchers--so that transportation planners around the world can benefit from it in planning their own bikeshare programs.