Visiting Tokyo and Japan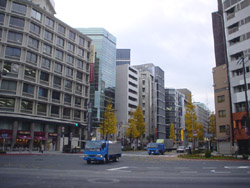 Are you planning a trip to Tokyo? I guess you have heard many conflicting and confusing pieces of advice.
Here's my advice regarding the travel from the US to Japan. I have lived in Boston, MA (USA) for about seven years and know how difficult it is to find the right information regarding the travel to Tokyo. Don't worry. I will give you the most important information for making your trip to Tokyo (and other Japanese cities) the most enjoyable one.
I embedded many hyperlinks in the following paragraphs (highlighted in blue). Follow those links for more information about each topic
Index
Flights to/from Japan | Between Tokyo Narita Airport and the downtown |
Stay (Hotels in Tokyo) | Transportation
---
Flights to/from Japan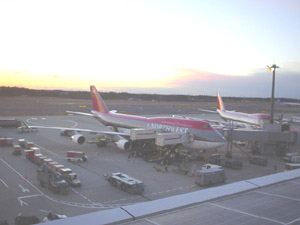 Finding flights and connections
First of all, you need to find whether your nearest airport is served by direct flights to Tokyo. There have been a lot of restructuring of airline industry in Japan and you will have to find the most updated information regarding the flight availability. From April 2011, there will be a direct flight from Boston to Tokyo by Japan Airlines.
You will have to worry about another trick regarding the flight number. For instance, Continental Airlines Flights No. 8 and 9 were actually "flying" between Boston and Tokyo under a single flight number, but they were NOT the direct flights: All passengers had to transfer to another airplane at Newark even though the flight number is the same. Only the positive side of those seemingly "direct" flights is a slightly reduced amount of federal tax on your ticket.
If there's no direct flights from your city to Tokyo, you need to think about the best airport for your connection. For example, if you live in the US and change airplane in the NYC area, you will have to endure a very long flight to Tokyo (about 14 hours). If you don't like the idea of staying in an airplane for more than half a day, you might consider changing the plane on the west coast.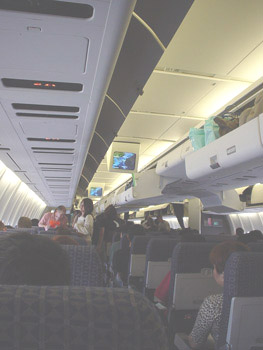 As you have learned in the geography class, airplanes usually go up north, forming an arch, to take the shortest route. Thus, it is advantageous to make a connection at an airport at a higher latitude. From the US, a transfer at Toronto or Vancouver sounds the best, but in reality, immigration concerns might make the total travel time longer. Obviously, it is a huge waste of time for the people living in the northern states to transfer in the southern states.
If you need to visit cities other than Tokyo, Osaka, and Nagoya, you may also consider changing the airplane at Seoul Incheon, using Korean Air or Asiana. Those airlines have many direct flights from Seoul to many small towns in Japan.
If you live on the eastern seaboard of the United States, another possible option to transfer at European cities. You can connect at London, Paris, and other European cities using European carriers. It's not necessariliy a stupid option. Although it takes more time, you can enjoy a day or two in Europe as a part of your trip!
Finding the destination airports
The main international airport for the Tokyo is Narita. It has been hated, however, by many Tokyoites because of its inconvenient location in Chiba Prefecture. Until recently, it took at least an hour to get there from the downtown. Now, a new rapid transit (Skyliner) is in service and it takes approximately 50 minutes to the central downtown. Narita has two international terminals and is served by many international flights.
Since 2010, Haneda Airport has been serving international flights. It used to be domestic only, but now it has an expanded international terminal and is served by many international flights (mostly to Asia). Generally speaking, Haneda is more convenient than the other, Narita, because it is smaller (i.e., no need to move around terminals to the boarding gate) and more proximate to the downtown Tokyo. However, the number of international flights are still limited. At this moment, only flights from San Francisco and Honolulu are available. American and Delta used to operate flights to the US, but cancelled due to the demand shortage after the big earthquake. They are scheduled to resume these flights in the summer.
Osaka and Nagoya Airports are also served by long reach flights (i.e., from North America and Europe).
Other Japanese cities are only accessible with connections. There are a very limited number of flights from Narita Airport to those regional cities. In many cases, you will have to take a bus from Narita (where flights from the US land) to the Haneda Airport (Domestic Terminal) that serves for domestic flights. Transit at Osaka or Nagoya can be much easier because those airports serve many domestic flights as well. In addition, you should remember that there is NO AIRPORT IN KYOTO. Kyoto is approximately 30 minutes away from Osaka by train.
Table of departure/destination and possible carrier choice
(as of Dec. 2011)
Connecting Airports

Approx.
time to
Tokyo from each airport
(hrs)

Tokyo, Narita Intl. (NRT)

Tokyo, Haneda (HND)

Osaka, Kansai Intl. (KIX)

Nagoya, Centlair (NGO)

14

AA,NH,JL,DL

AA (suspended)

DL

-

14

CO

-

-

14

NH, UA

-

-

14.5

DL

-

-

13

AA,JL,NH, UA

-

13

DL

-

-

13.5

DL

DL (suspended)

-

DL

13.5

AA (2 flights)

-

-

14

CO

-

-

12

AA, DL, NH, UA, JL

NH

-

-

11

NH,JL,UA

JL

UA

-

11.5

DL

-

-

10.5

DL,UA

DL

-

13

AC

-

-

10.5

AC, JL

-

-
AA=American, CO=Continental, DL=Delta, NH=All Nippon, JL=Japan Airlines, UA=United, AC=Air Canada
Time lag
Beware of the time lag. If you travel from the US to Japan, you will lose a day. You will leave in the morning of the first day of your trip, and you will arrive at Tokyo in the evening of the second day. When you come back, you will actually gain some time. You will come back to the US on the same day of your departure from Tokyo.
Circumventing the jet lag is an enormous task. I usually adjust my watch immediately after boarding on the plane. Then I keep on telling myself that I'm in a new time zone and imagine what I would be doing then. For example, most flights to Tokyo leave in the morning, but I imagine that it's in the evening when the plane takes off. I do drink some alcohol in the morning, imagining that the day is over. I also take airsick medicine (or sleeping pill). But, I always wake up in the middle of the flight (somewhere over Alaska) and start working on my laptop.
Choosing an Airline
You might want to know which airline I recommend... I always fly on American. Its Boeing 777 is relatively new, and it has the best seats in the economy class, I think.
Regarding the business class, All Nippon Airways offers full-flat seats in the business class. Other airlines, I believe, offer lie-flat seats.
To find the best seats for your flight, see Seatguru.com. In most cases you can reserve a seat well before you check in at the airport. That's how frequent flyers get the best seats and enjoy a pleasant flight.
Don't forget to join the mileage program. Check the alliance before joining a program. One of the cards you already have might be accepted for the flight you are taking. For example, you can accrue AAdvantage credit for any Japan Airlines flights (even for domestic flights in Japan). United has alliance with All Nippon Airways, the other Japanese carrier.
Travel Agents in Boston
Japanese-owned travel agents in Boston offer quite competitive price. At least, they usually offer much cheaper tickets than the normal fares offered by airlines. The following is a list of Japanese agents in Boston: HIS (617)247-6373, IACE (617)424-0140, Amnet (617)236-0017.
---
From Narita Airport to Downtown Tokyo
The international airport for the Tokyo area is located in a small town called Narita. The trip to the real downtown Tokyo is approximately 1 hour by train or bus. Taking a taxi from there will drain your wallet immediately. Forget renting a car and driving yourself unless you are only visiting the countryside. You definitely need to take a public transportation to Tokyo.
There are two train lines connecting between Narita Airport and Tokyo. JR offers "Narita Express" and other regular commuter train services to Tokyo and its suburbs. Keisei runs "Skyliner" between Ueno and Narita, as well as regular commuter trains.
If you want to take a train, I would recommend either Narita Express or Skyliner for those who are unfamiliar with public transportation in Tokyo. You can take taxi from one of stations in the downtown Tokyo. If you are comfortable with the public transportation system in Tokyo, commuter trains are in fact a good option particularly on weekends.
If you are staying at a major franchised hotel in Tokyo (such as Hilton), you can take a "Limousine Bus" from the airport direct to the hotel. This usually is the best option for first-time visitors to Tokyo. Bus services and fare from the airport are tightly regulated by the government. You will just have to visit the ticket vending counter and ask for a ticket to the hotel/location you will be staying at (no worry at all about the possible tricks that you may encouter in other Asian cities).
---
Stay (Hotels in Tokyo, Japan)
Categories of Hotels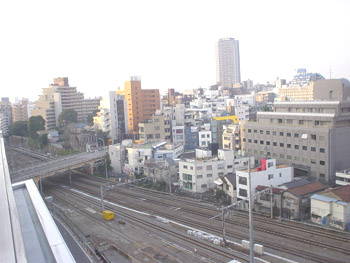 It is not really too expensive to stay in Tokyo as most Americans imagine. In fact, it is cheaper than to do the same in Boston. Hotel rooms are often tiny, compared to the US standard, but you should bear with it because Japan is the country of efficiency!!!
We don't have the "star" system as French do. In general, Japanese hotels can be categorized into two classes: "City Hotels (shit-ee hoteru)" and "Business Hotels (beejee-nes hoteru)." The former is usually a US franchisee (i.e., Hilton, Sheraton, Ramada etc.). Price is as much expensive (or higher) as for those in Boston. Rooms are fairly big (in the Japanese standard) and you can enjoy what you expect from those brand names. The price is somewhere between $150-$300 per night per person. If you can't afford such a pricey room, you can still stay at a "business" hotel. Rooms are usually very small but still you will have a private bathroom. Because of their clients' needs (hardworking Japanese businessmen), many "business" hotels have free T-1 or wireless Internet connections to each room. Price range between $60 - $100 per night. If you hate the smell of cigarettes, you should ask for a smoke-free room.
Per person policy
Most Japanese hotels charge the fee for each "person," not for each "room." So the price may be much higher than you expect if you occupy a room with someone else. It's strictly prohibited to invite unregistered guests into your room. This "per person" practice is actually not favored by consumers these days (it's so unreasonable!), and many hotels now uses the "price per room" policy. Anyway, you should be careful whether the quote is "per person" or "per room" when you book a room in Japan.
Booking a room
The challenge may be finding and booking a cheap nice room without speaking Japanese at all. If you don't mind staying with a relatively expensive US franchisee city hotels, you can book a room at Expedia, Travelocity, and other on-line agents in the US. If you want to stay at a business hotel, try " Rakuten Travel
." I usually use the Japanese version of this web site.
If someone is expecting you in Tokyo, you should ask that person for help. If you have friends from Japan, ask them to help you book a room. I would discourage you from trying to find a cheap one by yourself. Otherwise you will end up in a tiny and filthy room for an incredibly expensive bill. Again, Tokyo is not an expensive place to stay, only if you know the city.
Weekly mansion (apartment)
You can also find weekly/monthly rental apartments if you are planning to stay for more than a week. They are known as "weekly mansion (wee-cree man-shawn)" in Japanese but what you get is definitely not a room in a mansion. Tokyu Stay offers high-quality rooms in different parts of Tokyo (On-line reservation in English available).
Capsule hotel
Maybe you have seen "capsule hotel" on TV. Those hotels are totally wacky in the American sense, but if you dare try it, you will have something to brag about for your entire life, even to the most boring people in the world. There's no web site about how to book a "capsule," so I guess, you need to be totally localized before trying it. I've stayed in several capsules, but I just don't know how to explain my experience well. One thing I can say is you MUST be courteous to other customers. Don't chat with your friends nearby sleeping areas.
Ryokan
You might want to try traditional Japanese style hotel, known as Ryokan. It's hard to find a good Ryokan in the central Tokyo area, but there are some in the Hongo district (near University of Tokyo). You can sleep on traditional "Tatami" mats and bathe in a shared hot tab. If you really want to experience the traditional Japanese culture, "Ryokan" may be a good option (I don't recommend this for business travelers). Price varies from $50 to $500, depending on the quality of the accommodation.
Most Japanese people visit Onsen and enjoy their stay at Ryokan. Onsen means hot springs. We love to bathe in hot springs. Major destinations around Tokyo is Hakone and Izu (North, West, East). Those places are approximately 2 to 3 hours from Tokyo by trains. You need to have a courage to be naked in public baths. But, almost 99% of public baths are divided for men and women, so don't worry about that too much. Anyway, no one is interested in seeing you naked. Finding a nice Onsen is also a difficult task, even for the Japanese. I found a very nice one in the Izu-Kogen area. It is Hana-fubuki. This hotel has several bathrooms that you can lock the door! So you don't have to worry about being naked in front of others (but please never dunk the soap in the water!). I don't mind being naked in public baths, but I just feel much better if I bathe by myself in an open air, feeling the subtle scent of the surrounding forests and the clean air.
---
Local Transportation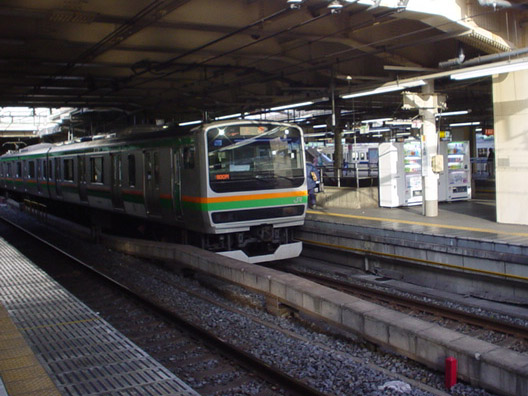 Train/subway system in Tokyo is extremely well developed. The fare differs by the segment you ride, so you have to figure out how much you need to pay each time you take a train or subway. Tickets are sold only by ticketing machines. Fee schedule is shown above those ticketing machines. You can't purchase tickets from clerks except for intercity trips.
Are you already intimidated? Please don't. You can buy a pre-paid "PASSNET" pass in Tokyo or a "Surutto-Kansai" pass in Osaka which is valid for all train/subway travel except on JR trains. With that card, you don't have to worry about purchasing tickets for individual rides. You just insert that card into automatic gates when you enter into the platform. The necessary amount is automatically deducted from the card when you leave from the platform at your destination. If you don't have enough credit on the card, the gate will close and warn you to pay additional fees at a "payoff" machine (called seisan-ki in Japanese). JR sells "Suica" (sold in Tokyo) and "Icoca" (sold in Osaka) electromagnetic cards, but I don't recommend these for a foreign traveler. If you mistakenly made a trip to a station outside the area covered by the system, you will have a serious problem...
In Tokyo, subways are operated by two organizations: the Tokyo metropolitan government and Eidan -Metro- Public Company. If you take two subways owned by different entities, you basically have to pay two different fees (minor discount [70 yen] if you buy a "connection ticket"). Eidan's network is more extensive so it is wise to depend on Eidan whenever you can when you have a choice between them. Both subways accept the "Passnet" card, so if you are planning to hop around Tokyo yourself, get a Passnet card and take subways. I think that's the cheapest option to get around the city.
Other major cities have subway systems as well: Sendai, Yokohama, Nagoya, Kyoto, Osaka, and Fukuoka.
Surface trains are operated by many entities. Major metropolitan lines, trunk commuter trains, and intercity trains (including Shinkansen bullet trains) are operated by Japan Railway (JR). JR-East operates in Tokyo, JR-Tokai operates in Nagoya, JR-West operates in Osaka. They are different companies, but their systems are fundamentally the same. As I mentioned above, it's slightly more difficult to take those JR-Trains because they don't have the equivalent of the "Passnet" card. Try to avoid them unless you have to. You don't have to take them particularly in Tokyo because its subway system is well developed. If you want to make one-day trips out of Tokyo, I think you have to take them. Consult with the following descriptions by each JR company if you need to take them: East (Tokyo area), Tokai (Nagoya area), West (Osaka-Kyoto-Kobe area).
Other suburban trains are operated by many different companies, which makes even Tokyoites confused. If you need to take one of these privately owned surface trains, you should seek help from a Japanese when planning a trip. Many of the terminals for privately owned railways are often built in department stores! It's so hard to find their entrance (I often got lost in those department stores looking for a concourse!).
Buses are good for guided sightseeing tours, but not good for intracity business or self-guided tours. Hato-bus is the most famous one in Tokyo. Other regular buses tend to be really slow because of traffic congestions. Intercity buses are very cheap option for the regional travel between major cities, but you definitely need to be able to engage in basic Japanese conversations. I doubt drivers can speak English. If you are confident about your Japanese language skills, or just adventurous, see this page for the information about the intercity buses. Overnight bus services between major cities, like the ones between Tokyo and Kyoto, are extremely cheap and efficient option.
Taxis are somewhat convenient, but somewhat expensive (but now, considering that the taxi in Boston is extremely expensive, taxis in Tokyo might be a reasonable option, especially if you are on a business trip). I think most of taxi drivers in Tokyo do not speak English well. If you need to take a taxi, you should write down your destination (in alphabets) very clearly on a sheet of paper and hand it to the driver. They know the location of major hotels. In the daytime, you should expect delays because of traffic congestions. In the evening, taxi fee jacks up by 30% between 11PM and 5AM. In Kyoto, try a guided tour by this taxi company.
Finally, don't try to rent a car in Japan unless you can drive on the "wrong" side of the road, or you are from the UK. Anyway all highways are tolled and parking are way too expensive. You probably should do so, however, if you are traveling in very rural areas where train service is not available.